RAISE: Lessons Learned & Practical Applications for the Future
June 15, 2023
2-4 pm ET
The Reagan-Udall Foundation for the FDA, in collaboration with FDA's Office of Minority Health and Health Equity, launched RAISE to elevate the curation and exchange of race and ethnicity data in health care settings to ultimately improve the quality of health care and medical products. 

RAISE: Lessons Learned & Practical Applications for the Future, a public meeting where we helped identify some of our priorities for action and discussed how to implement change and close the gaps in the health care data continuum. This meeting featured experts from across the health care ecosystem. They discussed key learnings, barriers, opportunities, and solutions identified in the series and how they can be applied to improve the capture, curation, and integration of race and ethnicity data in health care.
Read our Workshop Summaries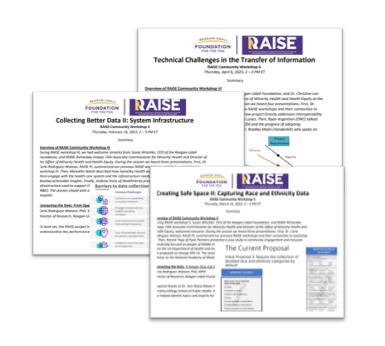 You can also hear RAISE Principal Investigator Carla Rodriguez-Watson, PhD, MPH, discuss designing clinical studies for diversity and inclusivity in patient selection on Oracle's Five3One podcast here.